Evelyn (Michelle Yeoh) lives a life of laundry and taxes with her meek husband (Ke Huy Quan) and rebellious daughter (Stephanie Hsu). But when she's suddenly yanked from her dreary existence she learns to unlock abilities from the lives she could have led.
You can hardly move for multiverses these days (Spider-Man: Into the Spider-verse, Spider-Man: No Way Home, Doctor Strange and the Multiverse of Madness) but Everything Everywhere All At Once (EEAAO from now on) is the first film to take an interest in the idea as anything other than an excuse for cashing in on nostalgia.
It starts out almost consciously mirrroring The Matrix, as our everyman/woman is dressed down by a bureaucrat in a bland cubicle, and facing a choice to stay in her bland existence or fight for a bigger world she knows nothing about. But while the kung-fu-based action is Matrixy, it takes us to many places The Matrix wouldn't dream of.
Through Evelyn's story we explore the search for meaning in a universe in which everything is just a statistical probability and question whether the universe where we reach our full potential is really the most desirable one. EEAAO is genuinely interested in the implications of a multiverse in a way no other film I'm aware of is (if you'd like to know more about the good scientific arguments in favour of a multiverse check out Our Mathematical Universe by Max Tegmark).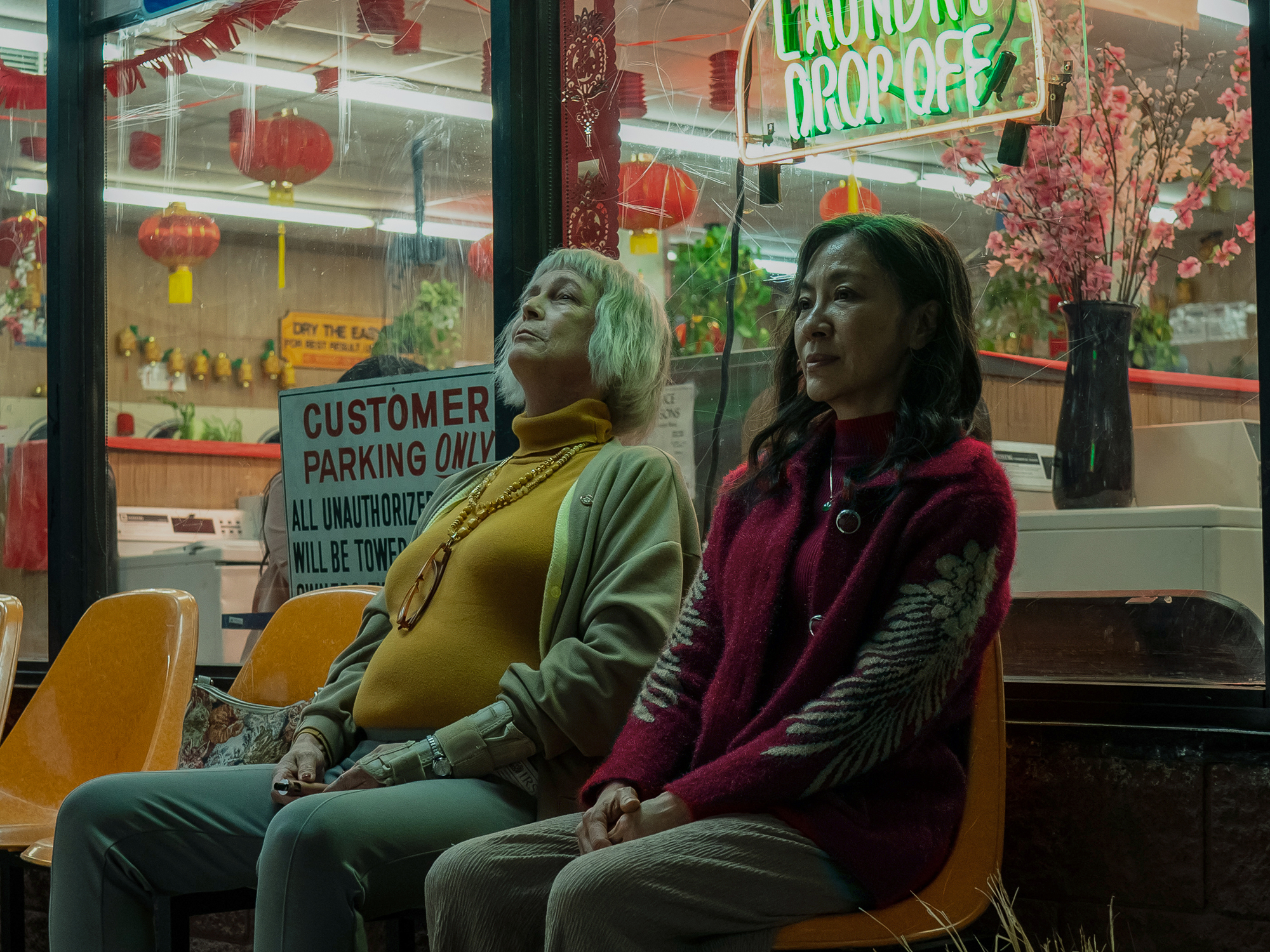 It relishes in exploring the idea of anything possible happening, living up to its title with a cocophany of truly bizarre scenarios which acheive the rare phenomenon of making you genuinely not know what's going to happen next. And it does this while maintaining a coherent and emotionally fulfilling narrative. In fact it jumps from ludicrous hilarity to tension to emotional depth with such break-neck frequency it seems to defy gravity.
The set-up allows its actors to play multiple versions of the same characters, and all of them clearly relish the challenge, with extra special credit to a totally committed Yeoh, a chameleon-like Jamie Lee Curtis, and Hsu who clearly relishes having such a fun part to play. Made for a miniscule $25million, it does an astonishing amount, with numerous universes playing out as our Evelyn progresses on her journey, in what is a logistical accomplishment as much as a creative one. It also features wild action sequences which fully exploit the possibilities of its zany premise.
The result is a brilliant work of science fiction, a moving mother-daughter drama, a superb action film and the best exploration of the multiverse ever. The Watchmen features a scene where the all-powerful Dr Manhattan fails to stop The Comedian from shooting a pregnant woman. The Comedian's retort? "You could've turned the gun into steam, the bullets into mercury, the bottle into goddamned snowflakes but you didn't, did you?" Zack Snyder stopped short of exploring what it means for a character to be able to do literally anything. EEAAO takes it as a challenge.