The long-awaited memoir from the 44th US president weighs in at a hefty 700 pages, as Obama shares thoughts and feelings from his meteoric rise and time in office. The first of two tomes, he briefly addresses his early life, having already covered it fully in Dreams from My Father, and takes us to the Abbottabad raid which killed Osama Bin Laden, while beyond the walls of the White House the media obsesses over birther conspiracies, fanned by his orange successor.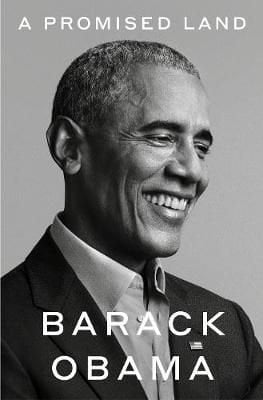 An avid reader, he admits to preferring long, nuanced positions to snappy soundbites, and he's clearly on comfortable ground having the space to fully talk through his decisions. He's an excellent writer, with clear, concise prose, obviously enjoying the opportunity to pause and reflect to an extent rarely allowed in the non-stop schedule of the president.
Like Bob Woodward's Fear, Obama seizes the opportunity to dive deeper into policy than ever permitted by the 24 hour news cycle. Not content with either a straightforward linear narrative or a quick overview of his legislative accomplishments, he instead addresses how each of the issues on his desk came to be, the many alternatives available to him, and why he took the decisions he did.
Like Michelle's memoir, Becoming, we get a sense of the huge sacrifices made by the first family, especially when that family happens to be Black. But A Promised Land also illustrates the huge power wielded by the office, as he goes from salvaging an economy in ruins, to the mire of two long and messy conflicts, to dealing with the biggest oil leak ever and delivering healthcare reform, while ensuring the issue of climate change isn't forced onto the back-burner. And he still finds time to coach his daughter's basketball team.
He's remarkably honest about the things he wanted to fix but couldn't, and the tension between his instinctive idealism (and that of the supporters who put him in office) and the pragmatism needed to get things done. The only notable omissions are how he felt about his extensive use of drone strikes and the influence of money in politics. While he describes the obsessive obstructionism which characterises the modern Republican party, and references his fundraising efforts, he never draws a line between the two or addresses the drain on the time of elected officials necesitated by the need to raise vast sums for election campaigns.
But he nonetheless does a huge amount, and there remains more ground to cover in book 2. The result is a compelling account of a turbulent period of history as well as an intimate portrait of a unique first family. Generous in his praise, humble in his self-reflection, but often remarkably honest in his judgements, this is a fascinating first-hand account of a man who is able to stay singularly optimisic in the face of unbelievable pressure.